Sunday Run Down : Aids Life Cycle, Alcatraz Triathalon, Union St Fest & Mamma Jamma
At the Cow Palace on Sunday, hundreds of bicyclists will head off on 7 day 575 mile journey to LA to raise money for AIDS charities.
The Escape From Alcatraz Triathalon starts on Sunday morn, drawing 2000 competitors from all over who start the event swimming from Alcatraz bright & early at 7am. There's also a Fitness Festival expo open to the public near the finish line at Marina Green all day as well.


For the less athletic looking for things to do, the Union Street Festival is a short walk up from Marina Green, which will be winding up as well.
If yer out and about strolling through North Beach, consider Sunday's Mamma Jamma "East Side Stories" at Rosewood Lounge which kicks off at 2 pm. It's the first event of the summer for this crew who promise to highlight artists, revolutionaries and producers within 50's, 60's soul, 70's RareGroove and funk, Latin jazz, afro cuban, bossa nova, samba, reggae, rocksteady, dub, nu jazz, broken beat and doo wop scenes.
Further down from Broadway at 750 Kearney, the Chinese Cultural Center will be showing Chinese made documentary films beginning at 1 pm.
More Info on the films, Sunday's Union Street Festival entertainment schedule after the jump, and info on the seriously skilled selectors who will be dropping the needle on some ol school grooves at Mamma Jamma's "East Side Stories" event.


Your selectors will include DJ Spinnerty whose freshly returned from the east coast, and T.D. CAMP , a local hip hop producer whose produced tracks for Mac Dre, San Quinn, Casual, Zion I. The party starts early with doors opening up for the afternoon crowd at 2 pm and rolling past dusk and ending the whole shebang at around 10 pm so you can get home early on a school night.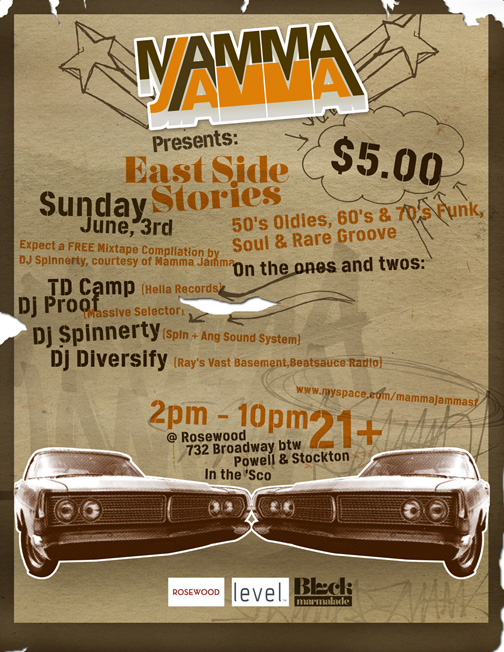 The Chinese Cultural Center inside the Financial District Hilton at 750 Kearny at 1 pm will show Shu Haolun's Nostalgia, winner of the Reel China 2006 Best Documentary Award, and the shorter 40 minute film Guarding Shangri-La 守护香格里拉.
For more info on the Union Street Festival visit http://www.unionstreetfestival.com/
Union Street Entertainment Schedule Sunday, June 3, 2007

Webster Street Stage

10:00 – 11:30

12:00 – 1:30

Ray Green & Friends

2:00 – 3:30

4:00 – 6:00

Gough Street Stage

10:00 – 11:30

12:00 – 1:30

2:00 – 3:30

4:00 – 6:00