Godzilla Downsized, Cult Spotted on 11th Street
For fans of "Heavy Metal", the band for whom reputedly the term was first used by writer Richard Meltzer to describe, is in town tonight and squeezing their big "Godzilla" sized sound into the confines of Slim's tonight at 333 11th St.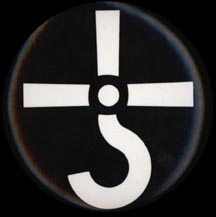 I speak of Blue Oyster Cult, a band that started back in late 60's Long Island influenced by the San Francisco psychedelic sound and is still going strong with three OG members out of 5 who still play almost a 100 shows a year.
The trivia question of the day is how many times has the band played SF in the last 30 some years?
Perhaps famous to the kids today only for the hilarious Will Ferrell "More Cowbell" skit on SNL starring Christopher Walken as Bruce Dickenson, the band's "producer", a character based on former SF denizen and Crawdaddy contributor Sandy Pearlman. Pearlman, was as a much a character as the Walken impersonation let on, and went on to help manage 415 Records, the Dio fronted Black Sabbath and become producer of The Clash's Give Em Enough Rope LP, as well as LP's by The Dictators, Dream Syndicate and local astrologer Rob Brezny's former band World Entertainment War
You can bet the band will be running through the dozen plus album back catalog ,which BOC has managed to milk for an additional 5 greatest hits sets & 4 live album releases. The "Cult" will no doubt be burnin through " Burning For You", and the cowbell packed crowd pleaser "Don't Fear The Reaper". Hardcore fans may want to revisit the tunes of 1976, their breakthrough year with the album "Agents of Fortune" and the snarling SF referencing lead off tune "This Ain't The Summer Of Love".
Said guitarist Buck Dharma back in 1995 in the band's official bio,
"When I look at some of these other bands and see what they have for hits, I consider myself very fortunate I get to play these songs every night," says Buck about the group's legacy. "How would you like to have to play 'Achy Breaky Heart' every night? That would be torture."

For more Blue Oyster Cult history, images & links, including a live MP3 of their classic "Cities on Flame ( with Rock & Roll)" and the answer to our trivia question… read on after the dreaded jump…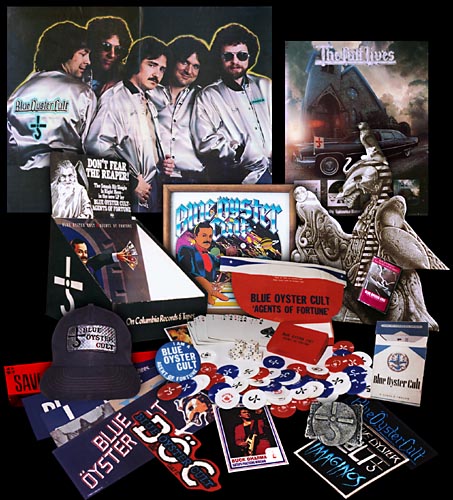 Radio hits were elusive, and the critics didn't always dig the discs, yet the band has forged on through the decades. They earned their keep on the road throughout many long tours, finding a way to combine showmanship into the act in order to keep up with headlining acts they were supporting like Alice Cooper and Slade. Imagine spending yer New Years Eve 1973 into '74 catching B.O.C with Kiss and Iggy & The Stooges at the Academy of Music in NYC.
They ditched the laser light gear eventually, but still play approx 90 dates a year, just like the old days, albeit at smaller venues with the name Club, Tavern, Casino or Fairgrounds in the title instead of Bowl, Arena or Coliseum as in their heyday…
Their debut album hit the racks in 1972, and the lead off single was Cities On Flame …
here it is some 30 years later
Blue Oyster Cult – Cities On Flame ( Live 2002 in Chicago ).
This track also coincidentally comes off a recently released live DVD recorded in a city famous for it's fire, on The Navy Pier in Chicago…
In their platinum pumping heyday, BOC used to play secret Bay Area club shows under their original name Soft White Underbelly, but now with the hype as faded as the hair, they can just bill themselves under their original name.
San Francisco writer j.poet recently interviewed Buck Dharma , of the hard working quasi legendary group about their gargantuan past and the results are posted here. Diehard BOC fans may want to head straight over to their UK fansite, HotRails.co.uk that has the comprehensive giglopedia, revealing minutae such as that they've played in California over 300 times in their career, San Francisco proper over 40 times since 1974, and Slim's has hosted the band 14 times since 1992.
Blue Oyster Cult Nowadays…