Does it work?
We've all learned at age five (plus or minus a few years) about apologies: something as simple as "I'm so sorry" can mend friendships and make small mistakes seem insignificant, while some apologies, when written down, are the length of the latest Harry Potter book.
Sometimes, pictures work best.
From SF to NYC, people have been apologizing to the world about this year's election, sparking sorryeverybody.com.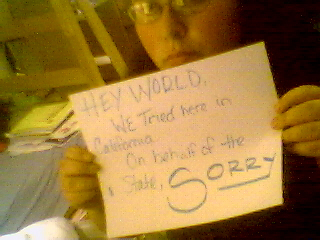 I hope the world accepts it.