Sugar Pie & Sushi @ Yoshi's
I'm on my way out the door to catch Sugar Pie DeSanto at Yoshi's on Fillmore. I'll be the guy with the front row table on the right hand side of the stage hootin & hollerin'…
For those unfamiliar with Sugar Pie, she's a local treasure who was raised on Buchanan street, as well as Etta James cousin and an R&B recording artist since 1955 when she got her start on Federal Records courtesy Mr. Johnny Otis.
Back in the day she recorded tracks with her cousin Etta and Willie Dixon that were hits on the Chess & Checker labels, and she's still going strong today with her latest CD "Refined Sugar" (found on iTunes).
I caught her last year at the San Francisco Blues Festival where she stole the set she shared with the aged Jimmy McCracklin'. I was impressed with this diminutive lady's feisty persona, with her seasoned & saucy sense of fun and frivolity.
Not bad for an old gal whose stage show with backflips was permanently curbed via lost hip movement when she was knocked over by a careless scooter operator in 2004, ( not too mention burned out of her North Oakland apartment two years later and had been left homeless…)
She's a fighter, a survivor, and a truly fun & inspiring performer to witness…
Born to an African American momma with a Filipino father, she was a bi-racial celebrity long before Tiger Woods, Lenny Kravitz, Alicia Keys, Nicole Richie or even Barack Obama made such circumstances fashionable.
Here's some mighty fine mp3 samples of music from her long & winding career which included early stints on long lost R&B labels like Jody, Rhythm, Aladdin, and Music City…
Her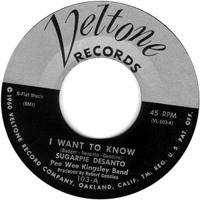 first taste of solo success occurred in 1959 when the Veltone label released I Want To Know.
This track established her as a name in the biz, and soon she was signed to Chess in Chicago alongside younger cousin Etta. Sugar Pie wowed them on stage, being regularly compared to dynamite, but she also knew how to control herself. Despite her sexy charms, and a two year stint on the road with James Brown, who recounted in his autobiography, that she was the only female in his revue with whom he never slept.
Sugar Pie could have been a bigger star, but for whatever reason, The Chess Bros. played the protective mogul role and held her potential at bay for seven years, keeping her busy as a writer and background vocalist, only releasing one rare 1961 album by the lady.
She cut 30 sides for Chess records, most of which were shelved and never hit the streets. While Sugar Pie got a $10,000 advance from the notoriously stingy Chicago honchos that ran the label when she signed on, they stiffed her on royalties for decades, even though she wrote many songs for other artists including Fontella Bass, Etta James, Little Milton and Minnie Ripperton.
Here's a Checker single


Sugar Pie DeSanto – Soulful Dress
Sugar Pie went along on the 1964 Folk-Blues Fest tour of Europe, but as the only female artist, and basically an opening act… She also let the other musicians on that run including Muddy Waters & Willie Dixon know that she wasn't part of the backstage buffet, telling the SF Bay Guardian in 2004
"I refused all them old goats,"
Here she is from that run backed by Willie Dixon and band on her answer song to Hi Heel Sneakers known as Slip In Mules.
Sugar Pie DeSanto w/ Willie Dixon – Slip In Mules
from: American Folk Blues Festival '64
By the early seventies she'd settled back into the San Francisco Bay Area for good, and over the next 35 some years has made some sporadic funky & bluesy tracks for her manager's Jasman Records… Here's one such cut from 1972 that was resurrected and licensed by the always fine & dandy crate digging Ubiquity label not long ago for their Bay Area Funk, Vol. 2 collection…
Sugar Pie DeSanto – Straighten It Out With Yo Man
See ya'll down in the basement laters …