Weekend Whatnot – Faux Proms, Festivals & F&%kin Parkerzalooza
As the heat kicks up, looks like the city will be alive with thirsty folks all day & night this weekend, from North Beach to the Mission, SOMA and beyond, there's plenty of options…

From the North Beach festival's entertainment lineup to, the full skinny on Parkerzalooza @ 12 Galaxies, it's in here…
First here's a few rock n rolling events Friday night where ya may find liveliness & libations ( even more events from between now & Sunday's fade posted after the jump, with some additional mp3 samples & pix) …
Friday Night June 14th :
Looks like a member of the zydeco's first family is in town, that being CJ Chenier at Biscuits & Blues supporting his latest release "The Desperate Kingdom of Love" on World Village Records, a post-Katrina followup to his acclaimed Alligator records release Step It Up. This new release is a unique exercise from the normally jubiliant southern accordian player, as he explores some more sorrowful styles including fitting covers of Hank Williams, Van Morrison and even the title track originally done by PJ Harvey.


Chenier is a well respected live act, who's got plenty of experience performing not only as a solo act, but on tour with Paul Simon, as well as his legendary father, and before that in the late 70's jazz funk group Hot Ice. When pop Clifton died in 1987, C.J inherited the band and accordian and has taken the rightful zydeco throne while adding some bluesy bluster. His records on the Arhoolie, Slash & Alligator labels have cemented a reputation at festivals around the world including large scale events like The Chicago Blues Festival, Austin's SxSW, New Orleans Jazz & Heritage Festival, etc where he's entertained many tens of thousands at a time.
If down home bayou bred danceable & desperate Acadian music ain't yer thing, consider heading down to the Great American Music Hall for a more metalloid & bizarre affair…

The Great American Music hall will reverberate Friday with the sinister sounds of Sleepytime Gorilla Museum, the Bay Area based band that isn't afraid to take a female violinist along for the ride into a devilish thrash metal netherworld. These theatrical pros take audiences through the dramatic dungeons of twisted meter and emerge with an omnipotent math rock successor to the typically warped crown of thorny musical hellscapes…
mp3 samples of Sleepytime Gorilla Museum, C.J Chenier, Parkerzalooza headliners Earthless, Hank IV and more after the jump (and the lineup this weekend at the annual North Beach Festival, info about The Prom being held at The Knockout on Saturday, etc):

The long awaited new album from Sleepytime Gorilla Museum emerged this month on The End Records, and this is the homecoming show celebrating the release of their new Cd on The End Records.
Sleepytime Gorilla Museum – Headless Corpses Enactment
w/ Cheer Accident
Great American Music Hall
859 O'Farrell St, San Francisco, CA
p.s here's that other musical sample I promised ya from C.J. Chenier
C.J. Chenier – Turn Around & Say Goodbye

from "Step It Up!"
by C.J. Chenier
Alligator Records
More On This Album
On Saturday Night June 15th – Parkerzalooza IV
Local promoter/bon vivant Parker Gibbs celebrates the continuing saga known as his pointless aging process with a multi band birthday party at 12 Galaxies on Mission St.
Joining Parker in this annual affair will be a slew of bands, each of whom have a unique take on sonic serendipity.
Here's sample of co-headliners Earthless from San Diego, who specialize in a sort of power triaged acid rawk and feature former Rocket From The Crypt drum god Mario Rubalcaba …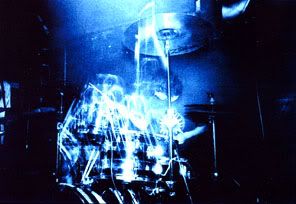 So be prepared to get yer lighters up, and in the meantime check out an MP3 track from their upcoming full length on Tee Pee Records…
Earthless – Godspeed

More On This Album
After Earthless finishes their set, watch for local trouble crew Hank IV to stumble up and finish this battle of the bands fair & square. Borrowing occasionally from the Jesus Lizard playbook, this band which includes local luminaries like Hemlock booker "not so big" Tony Bedard & freakadelic frontman Bob McDonald will no doubt be juiced, loosed and perhaps suitable to be noosed…

Here's a track from the band's debut disk on Hook or Crook records called "Tonight We Ride"
Hank IV – Tonight We Ride.
(mp3)
from "Third Person Shooter"
by Hank IV
Hook or Crook Records
More On This Album
Also on that endless Parkerzalooza bill over at 12 Galaxies are a few other bands including the Enablers featuring the poetic musings of Pete Simonelli backed by some veteran rocker pals. The band have material out on Neurot records, like this cut from their CD "Output Negative Space".
Enablers – Sudden Inspection
For More info Go To 12 Galaxies website and read all about it, heck buy a ticket in advance even…
On Saturday night another fun sort of evening is planned in the Mission at The Knockout, where mistress Clare St. clair presents here annual rock n roll prom party… expect streamers, party favors, dancing , prizes and whatnot… no cover!
speaking of free….
On Saturday & Sunday many many thousands will gather at The North Beach Fair which runs along Grant Ave, and surrounding streets like Vallejo, Green etc…
there's the chalk art, the animal blessings, the celebrity pizza tossing and of course music…
The Swing & Salsa stage on Green St includes sets from Steve Lucky & The Rhumba Bums and The Pulsators. On Saturday, the other official festival entertainment stage at Washington Sq park includes Luce at 3:00 pm and at 4:30 pm the local cover band founded by North Beach native Rudy Colombini, known as the Unauthorized Rolling Stones. On Saturday night, Grant & Green has AC/DC tribute band Powerage booked all night for multiple set mayhem.
On Sunday the entertainment includes Stompy Jones at the Green St stage, and U2 cover band Zoo Station in the park.
In addition to the beer & wine, and imported "crafts", local merchants also feature local artists etc. Look for displays along the street from artists like Nancy Calef who creates mixed media & oil "peoplescapes" hanging at Live Worms Gallery, while across the street John Sheridan is hanging & selling unique collages at RubyDolls at 1318 Grant Ave.

More official North Beach fest info at http://sfnorthbeach.org/NorthBeachFest2007/index.html
if that don't work for ya try: