Underground Runway On The Way Saturday…
This weekend is the debut of a new local fashion event on Saturday night called Underground Runway…
Fans of checking out all the upcoming styles & new designers, some very pretty ladies and deviant dancefloor action should show up around 9ish when the event is really rolling.
Guests will be treated to hot and flashy runway presentations from each designer's latest sexy collections, and a lavish after party with music from top Bay Area DJ talents like DJ Undakut, Sake 1, and others in da mix…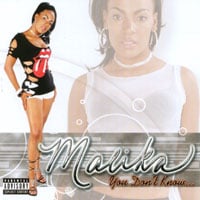 Local recording artist Malika ( of MTV's Making The Band) will host the Underground Runway show this Saturday, featuring multiple local designers at 111 Minna Gallery in San Francisco on Saturday March 3rd 2007, with doors and VIP cocktail reception starting at 8:30 pm.
Local Designers To Be Featured Include :
* Mastahn Fanaka
—————————————————————–
* RJ Designs / RJ Latina
more designers pix & info after the jump

Other designers in the show include:
—————————————————————–
* RubyGirl / Ruby Dolls
—————————————————————–
* Tavia Adinasi
The goings on will be documented by numerous still photographers, as well as a camera crew run by award winning filmmaker Kevin Epps (Straight Outta Hunters Point, Rap Dreams) who will be showing the edited results via Adam Curry's global reaching Podshow Network. Listen for event organizer Kevin around 12 on The Bay Area's Pirate Cat Radio at 89.7 FM on the day of the show being interviewed by Ms. Lilycat.
It's being pulled together in a quick & dirty high energy fashion on a shoe string, by a mostly volunteer army, but promises to deliver ya a quality evening with so many creative & talented folks working behind the scenes. I imagine of course, that they'll all be striving to put some serious style on display… uh, in the funky underground mode. This ain't New York afterall…
Might wanna bring yer cameras… perhaps it's a perfect coincidence that this foto friendly event will be the defacto Flickr Anniversary after party?
There's a full bar at 11 Minna and looks like a full slate of stuff going down…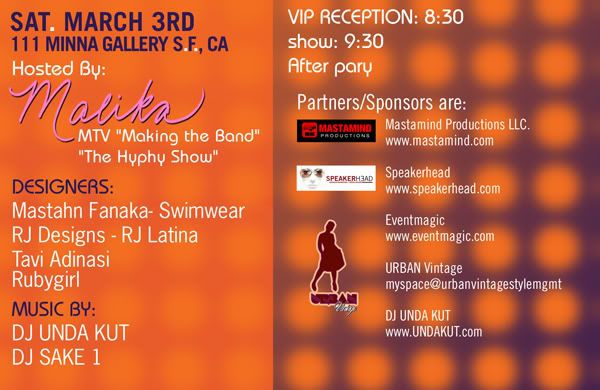 Maybe I'll see some of ya there…