NYE live music options here & around the world
Every year, I always feel some sort of nagging "I shoulda, coulda, woulda " when it comes to New Years Eve. Unlike those quieter manufactured religious holidays, NYE is sorta a huge amateur night and mess, one that is celebrated all over.
There are giant pricetags put on often ordinary looking shows and then there are some magical bills that actually do seem worthwhile…
I never seem to know for sure where to head to, so I end up seeing the Supersuckers at Slims or something…( well not this year, cuz they are in Utah…)
I know that because I spent way too much time this past month compiling a list of all the huge mega concerts & even many lil pub & vfw hall shows I could find…
Not just in the Bay Area mind you, but from Amsterdam to Auckland, Tokyo to Tucson…
and I figgered I should post it here before it becomes horribly out of date within the next few dozen hours…
So if yer looking on info on where the party is at when they drop the big ball…

read on after the jump…

This is the one & only ultimate New Year's gig & show list.
I'll highlight a few SF & Bay centric options up top and then go deep if you wanna know what's going down elsewhere
One I thing I don't do, and just call me old fashioned, but I don't pay to see a DJ… I'm just not that impressed when a guy spins records for me. Unless he's freaking a legend & recording act like Grandmaster Flash, you won't see him on my list of things to do…
First, here's some aribitrarily chosen SF music stuff to look into, (more are interwoven into the big list ):
Hipsters into electro infused indie rock should already know about Blonde Redhead, Shiny Toy Guns, amazing DJ Mike Relm, as well as locals Scissors For Lefty & Persephone's Bees @ Mezzanine SF
Jam band freaks & friends have options galore with String Cheese Incident & the psychedelic circus like atmosphere produced under the name Sea of Dreams at Concourse Exhibition Center
Friends of the anti-war activist group Code Pink will wanna check out their benefit at the Zeum, featuring performances from Jill Sobule, and Country "Fixin To Die" Joe McDonald as well as Los Brothers Latin Fusion Band with Dr. Loco
Pop with a retro Vietnamese flava will be offered up by Dengue Fever at The Rickshaw Stop.
Boogie down with Dixie fried New Orleans rockers The Radiators @ DuNord
Noisy quasi-metal from longtime regional scenesters The F*cking Champs at 12 Galaxies
Bay Area rappers represent at The Independent where Lyrics Born is onstage or try the Bill Graham Civic with a hyphy "Pimp n Ho" ball hosted by Flava Flav featuring, Federation, Nump, Starski, San Quinn etc. While, down the Peninsula, local up & comers The Bayonics crew are @ Blue Chalk Cafe in Palo Alto
Across the street from Ruby Skye where the Crytal Method will be hitting the DJ decks, is John Lee Hooker Jr whose following in his pop's show biz footsteps at Bisquits & Blues
Classy cats & kittens can head to the Top of The Mark for The Black Market Jazz Orchestra
Relentless up & comers Birdmonster & Boyskout are going to be dusting off the 2006 cobwebs with some indie rawkin' good times at Bottom Of The Hill…
Chanteuse Connie Champagne rejoins Vice Grip & the New Morty show along with Mr. Lucky, etc at Bimbos 365.
Perennial quirky country faves Red Meat @ Annie's Social Club, while pop chart wannabees The Lovemakers & Honeycut are at the Great American Music Hall
Across the Bay, the quiet island of Alameda gets a dose of retro metal with L.A. Guns @ Roosters Roadhouse.
And those who love legends might wanna stop mourning James Brown and head into Stockton where the octogenarian bluesman B.B. King is the @ Bob Hope Theatre.
In Marin, the authentic boogie woogie piano sounds of Mitch Woods & His Rocket 88s light up Mill Valley's Throckmorton Theater, and right nearby on the same block, Sweetwater has Vinyl.
and I hear a house party on Pegasus Ct in San Jose will feature Stillborn Jesus
Uh, so that's just a few ideas… now get scrolling below… Whether yer into country, dancehall, indie, screamo, classic rock, R&B or hardcore punk, you have a right to know if there's something going on for ya below…
but be prepared to commute…
I've got shows posted here alphabetically from Belfast to Biloxi, Denver to Dublin, Las Vegas to London, Mombasa to Mumbai, Nashville to Nesquehoning, Park City to Perth, Seattle to Seoul!
Whether you want to party in South Carolina or South Africa, I've got info listed for the serious & casually curious…
This is indeed most likely the most comprehensive & diverse NYE "concert" list just about anywhere…and a work in progress that gets fatter everyday…
Last year I built a comprehensive list of NYE shows, and have been studiously working on this one daily for the intro to 2007….
So keep coming back until the big nite as we'll keep ya posted with updates as we get em… and offer up a few sound samples of what sonic styles some of these performers will be playing at their gigs…
… while most shows I found are here in the ol' USA, there's a smattering of global entertainment offerings listed as well…
oh, and be sure to send in yer show in the comments if ya got one…
Just to be a jerk I tend to do the list in alphabetical order by 1st letter of 1st name, not by city, but by artist names,
So generally the first letter of the main or headlining act is listed first…
if ya wanna search around within your browser for your city or fave act Windows users dhould try using a CTRL F search and typing in the city, club or bandname…
It really gives ya a broad idea of what's going down all over the globe, and where some of the best live music I could find out about is going off on New Year's Eve…
Most of these are band shows, wityh some DJ stuff thrown in, but usually only if the DJ has released an album of original music, or some sort of musician with a side gig for the night ( as in cases of Chemical Bros, Good Charlotte, Kid Rock etc)
00 Soul @ Blue Cafe, Long Beach CA
3 guys and a drummer w/ Maynard of Scarecrowz @ Georgetown Pub, Ottawa ONT CAN
8 Track Jones @ Border Cafe, Centreville VA
26 Hertz Band @ Apshu, Moscow RU
13th Step, Asylum Saints @ PJ's Pub, Manhattan KS
.38 Special @ Penn's Peak, Jim Thorpe, PA
235 Band @ VFW, Okmulgee OK
54/40 , Chilliwack @ Red Robinson Show Theatre, Coquitlam, BC CAN
808 State, Graeme Park, Jon Da Silva @ Manchester Academy, Madchester UK
1800's Sea Monster, Cold Water Armies, Outspoken, GTSK @ Keith Anderson Comm Center, Orono, ME
A
Aaron Lewis of Staind @ Mohegan Sun Casino, Uncasville, CT
Aaron Pritchett @ McPhillips Street Station Casino, Winnipeg, MB
Abbey Road Live @ Cat's Cradle, Carrboro NC
Abby Normal, He Is Us @ Starry Night, Provo UT
Absolution Project, P-Spot, Setiva @ Penny Arcade , Rochester, New York
Ace of Spadez, Lil Sheek, DJ Krush @ Starfish Lounge, Chicago IL
Acoustic Alchemy, G Funk @ Pizza Express, Soho, London UK
Acubis, The Bus, DJ Mad-Jam @ Biel, Pavilion Royal, Beirut, Lebanon
Agua Dulce @ Voz alta, San Diego CA
A Hawk and a Hacksaw, The Blow, Evangelicals @ The Mohawk, Austin TX
The Blow – Hock It ( YACHT remix)
Alabama 3 presents Outlaw @ Dirty South, London UK
Alan White of YES @ Bell Harbor Conference Center, Seattle, WA
Alarm Clocks, Rainy Day Saints @ Beachland Ballroom Tavern, Cleveland OH
Alexander Zonjic and Kirk Whalum, @ Seldom Blues, Detroit MI
Alex White and the Red Orchestra, The Go,Josh Daniels and the Addictions @ Painted Lady, Hamtramck, MI
Alfred Howard & the K23 Orchestra @ Winstons, San Diego, CA
Alkaline Trio, Smoking Popes @ Metro, Chicago, IL
Alkaline Trio – You'd Be So Nice To Come Home To
Smoking Popes – Midnight Moon
Alkaholiks, Capaciti, Kanser etc @ Dinkytowners, Minneapolis MN
New Years w/ The Liks, Toki Wright, Ill3, Kanser and more
All Nations Singers, @ Portland Convention Center, Portland OR
American Flamewhip,Fabulous Kildonans, Hot Live Guys @ Dylan O'Connor's, Winnipeg, Manitoba
Amorphis @ Club Teatria, Oulu, Finland
Amos The Transparent ,Travel By Owl,Reverb Syndicate, Sick Fits @ Zophod Beeblebrox, Ottawa ONT CAN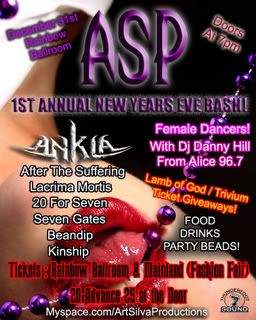 An Albatross, The Sw!ms @ Cafe Metropolis, Wilkes Barre, PA
Ankla, Lacrima Mortis, After The Suffering, Seven Gates, etc @ Rainbow ballroom, Fresno CA
Andrew Bird, Devotchka @ Ogden Theater, Denver Co

Angie Powers Primetime Band @ New World Landing, Pensacola FL
Antioquia,Sinclair @ Starry Plough, Berkeley, CA
Antix @ Capitol Hill Arts Center, Seattle WA
Antoinette Tredanary @ Lockeepers, Cleveland OH
Anything That Moves @ Burt's Tiki, Salt Lake City UT
Apologists, Shazy Hade, The Grizzlies @ Mickeys, Madison WI
Ark , Monolake, Chris de Luca vs Phon.o @ Maria am Ostbahnof, Berlin GER
Armand Van Helden , DJ Disciple @ Tottem, Miami, FL
Army of Darkness @ Ponderosa, Apple Valley CA
Ars Supernova @ Dirty Dog Bar, Austin TX
Art Byman Trio @ Beach Cove Resort, Myrtle Beach SC
Art of War @ Mandarin Club Sydney AUS
As Fast As @ The Asylum, Portland, ME
As Fast As – Florida Sunshine
Assembly of Dust @ Paradise , Boston, MA
Asphalt Valentine @ Memorial Sportspark, Barstow CA
Asylum Street Spankers @ A.J. Palumbo Center, Pittsburgh, PA
Aubrey Fay Band, Detroit Underground @ Humphrey's By The Bay, San Diego, CA
Audie Blaylock @ Laurel Lakes Music Park, Salemburg, NC
Austin DeLone, Roy Hargrove, Dwayne Dopsie & Zydeco Hellraiders @ Winter Jazz, Umbria Italy
Autolux, Dead Meadow @ Little Radio , Los Angeles, CA

Aventura, El Canario Jose Alberto @ Copacabana, NYC
Aventura – Un Beso
Download "Un beso" (mp3)
from "God's Project"
by Aventura
Avett Bros @ Neighborhood Theatre, Charlotte NC

Avett Brothers – Talk On Indolence
Axiom, Y-Lab, Atomic Blue, Zen Machine, Skip the Middle Man @ Klinic Bar & Grill, Madison WI
B
Baby Sham, Strykers Posse @ Lime Tree Club, Wash DC
Badfish: Sublime Tribute @ Harpers Ferry, Allston, MA
BackStage Pass @ Tailgator's, Bolingbrook, IL
Backyard Tire Fire @ First Night, Sioux Falls IA
Bad Medicine ( Bon Jovi Tribute) @ Sam Maguire's, Orland Park IL
Band of Heathens @ Gruene Hall, New Braunfels, TX
Bandingo Bros, Brian McLoughlin Band, etc @ Bar & Grill, Layton, NJ
Bangers, DJ Assault, Rob Swift, $mall ¢hange etc @ STUDIO B, Brooklyn NY

Bally Sagoo, DJ Skillz @ Kempi's, Addison TX
Barcelona Mannequin, Pattycake 600, Trippin Skarlo @ Fire House, Blue Hill, Maine
Barely Standing @ Bungalow Joe's, Hanover Park, IL
Barlow Girls, Stellar Kart etc @ Knotts Berry Farm, LA CA
Barron and the Burger Boys @ Jules Holland's Hootenanny,BBC TV Centre, London UK
Basement Jaxx @ Bondi Pavilion, Bondi Beach, Sydney AUS
Bastard Sons Of Johnny Cash @ Rodeo Bar, NYC
Bay City Rollers, Cowsills, Leif Garrett, etc @ Flamingo, Las Vegas NV
Bayonics @ blue Chalk Cafe, Palo Alto CA
Bays @ Rhythm Factory, London UK
B.B. King @ Bob Hope Theatre, Stockton CA
Beach Boys w/ Mike Love @ Luxor, Las Vegas, NV
Beatle Mania Live @ Casino Arizona, Scottsdale AZ
Beau Soleil Avec Michael Doucet @ American Theatre, Hampton VA
Bebe Cool, Jose Chameleone, Ragga Dee, The Obsessions, Lady Mariam, Chagga, Emperor Orlandoh etc @ Sheraton, Kampala, Uganda
Behind Crimson Eyes,Body Jar, Fastcrew @ Coolangatta Hotel, Gold Coast , AUS
BellX1, Without George @ Royal Theater Castlebar, Mayo Co , IRE
Bela McNab's Ceilidh Band, Occasionals, Hugh MacDiarmid's Haircut @ George St. Assembly Rooms, Edinburgh, Scotland
Benevento/Russo Duo @ Revolution Hall, Troy, NY
Benevenuto/Russo Duo – Becky
available via Ropeadope Records
Benny Benassi @ Lizard Lounge , Dallas, TX

Bernie Woods & the Forest Fires @ The Sportsman, Croxley Green UK
Betchadupa, Rhombus, Mother Guru, Minuit`,Clowndog @ Trafalgar Park, Nelson, NZ
Bharati @ Festhalle, Messe Frankfurt GER
Better Than Ezra @ House of Blues, New Orleans LA
Beverly Knight, The Thrills, Tony Christie, Duke Special @ Town Hall, Belfast, Northern IRL
Big Head Todd & The Monsters @ Paramount Theatre Denver, CO
Big Mouth Cooperative Band @ Cafe Montmarte, Madison WI
Big Pinky Band @ VFW No. 1224, Hamburg MI
Bill Gaither @ FedEx Forum, Memphis, TN
Billie Ledbetter Orch @ San Luis Resort, Houston TX
Bill Kirchen, La Firma @ 1st Night, Old Town, Alexandria VA
Bill Medley of Righteous Bros @ South Point, Las Vegas NV
Billy Childish, Princes In the Tower, the Surgeons, Pete Molinari and the Beep Seals @ the Spitz, London UK
Birdmonster, Boyskout @ Bottom of the Hill, San Francisco, CA

Birdmonster – Cause You Can
Black Eyed Peas, Sergio Mendes @ Ipanema Beach, Rio de Janeiro, Brazil
Black eyed Peas w Sergio Mendes – Mas Que Nada
BlackEyed Susan @ Sammy T's, Huntsville, AL
Blackfoot @ Magic City Music Hall, Johnson City, NY
Black Lips, Japanther, The Fugue, The Young Men @ Raven's Den/Silent Barn, Ridgewood NY
Black Market Jazz Orchestra @ Top Of The Mark, SF CA
Blind Guardian @ Palladium, Worcester, MA
Blonde Redhead, Shiny Toy Guns, Mike Relm, Scissors For Lefty ,Persephone's Bees @ Mezzanine SF
Blondie, Buck Cherry, Violent Femmes, Soul Asylum, Everclear, Romantics etc
@ "Orange Drop 2007" on OC Fairgrounds, Costa Mesa CA
Blood Pit, Sonic Roots @ Nosturi, Helsinki, Finland
Blood, Sweat & Tears, Chuck Negron @ Boomtown Casino, Harvey, La
Blue 54 @ Stagedoor Theater, Bowen Hills, Brisbane, AUS
Blue Dogs @ Windjammer, Isle of Palms, SC

Blueground Undergrass @ The Pour House, Charleston, SC
Blueground Undergrass w Larry Keel – Pig In A Pen/ Old Joe Clark ( live at GA's Harvest Fest 1999)
Blue Hair Nightmare @ VFW Hall, Toledo OH
Blue Playne @ Plyers Lounge, Bakersfield CA
Blue Rodeo @ Copps Coliseum, Hamilton ONT CAN
Blue River Band @ 8 Seconds Saloon, Indianapolis IN
Blue Scholars @ Neumo's, Seattle , WA
Blues City Blues Band @ Iron Post Inn , Temple PA
Blues Envy @ Fat Matt's Rib Shack, Atlanta GA
Blues Fuses @ Cardinal Wolsey Pub, Surrey UK
Bluetonic @ Souclub, Mollerussa-Lleida, SPA
Bob DeAngelis (Benny Goodman Tribute) @ Roy Thomson Hall, Toronto ONT CAN
Bobby Moon, Sthir, etc @ San Jose Convention Center
Bobby Vinton @ Grand Casino, Hinckley MN
Bobby Vinton – Mr.Lonely
Bob Fjeldsted & Roundup Boys @ Bixby Community Center, Tulsa OK
Bob Schneider @ Antone's , Austin TX
Bockman,Upright Animals, J.S. Blueprint etc @ Cicero's, St. Louis MO
BoDeans @ Barrymore Theatre, Madison WI
Bolt Action 5 @ Buffalo Bar, London UK
Bomboras, Thee Spectors, etc @ Vine St Lounge, Hollywood CA
Bonerama @ Maple Leaf, New Orleans, LA


Bonerama – Bap Bap
Bonnie Raitt @ Pechanga Resort & Casino, Temecula CA
Boogie Kings @ Bailey Hotel, Lafayette LA
Bottle Rockets, Peter Cooper @ Mississippi Nights, St. Louis
Brave Combo @ Cox Convention Center, Oklahoma City, OK
Brave Combo – Bumble Bee
Brazilian Girls @ Irving Plaza, NYC
Breakestra @ Temple Bar, Santa Monica, CA
Bridge, Written Prisms @ 8×10 Club, Baltimore, MD
Brinstone Nuclei @ Pentagon, Athens GA
Brooks & Dunn @ Gaylord Events Center, Nashville TN
Brothers of Doo Wop, Funktastic Five @ 1st Night, Fredricksburg VA
B Side Players @ Temple Bar, Santa Monica CA

BT @ Marriott Hotel, Chicago IL
BT – Sunblind
Buck 65 (DJ set) & Papa Mambo @ Pyramid, Winnipeg MB, CAN

Buffalo Daughter @ Ball Room, Tokyo JPN
Buffalo Daughter – Ivory
Bugsy (zulu nation), Ebony Bones @ Live Bar, London UK
Bully Pulpit, Organ Failure, Kai/ros, TwentyX, Yatagarasu
@ Super Happy Fun Land, Houston TX
Burning Hotels, Black Tie Dynasty, Lord Henry @ Wreck Room, Fort Worth, TX
Burning Skies, Shaped By Fate, Ellaetc @ The Croft, Bristol, UK
Burning Spear @ Culture Room, Ft. Lauderdale, FL
C
Cake, Maritime @ Pabst Theater, Milwaukee WI
Campaign For Real Time, Big Digits,B.L.O.W.W @ Great Scott, Allston, MA
Candye Kane at JJ's Blues Lounge in San Jose
Cansei de Ser Sexy @ Newtown, Sydney, AU
Cansei der Ser Sexy – Meeting Paris Hilton
Capitol Steps @ Maltz Jupiter Theatre, Jupiter, FL
Cara Robinson @ The Wardrobe, Leeds UK
Carbon Leaf, Crossfade @ Canal Club , Richmond VA
Caribbean Kids @ Shaggy's On Main, Newark DE
Cari Hutson @ Lucy's On The Square, San Marcos TX
Carl Cox, The Presets, Mark Dynamix @ Luna Park, Sydney, AUS
Carmen Grey @ Osmantupa, Eura, FN
Carolina Rain @ Gilley's, Las Vegas NV
Carrie Underwood @ Mystic Lake Grand Ballroom, Prior Lake, MN
Casino Royale @ Meritage Hotel, Napa CA
Caxton St Jazz Band @ Brisbane Jazz Club, Brisbane AUS
Cee Knowledge(aka Doodlebug) of Digable Planets @ the Loft, Denver Co
Celine Dion @ Caesars Palace, Las Vegas, NV
Chaka Khan @ B.B Kings, NYC NY ( replacing James Brown)
Chaka Khan – I'm Every Woman live
Charlie Daniels Band @ Cypress Gardens , Cypress Gardens FL
Charms @ Positively 4th Street, Troy NY
Charo @ Don Laughlin's Riverside Resort, Laughlin NV
Chavez @ Spaceland, LA CA
Cheap Trick @ Hilton Waikoloa Village, Big Island, HI
Cheb i Sabbah, midival punditz @ Shalom, Calangute, Goa India
Cheeky Bastard, James Righton (Klaxons), Michael Jurin (Stellastarr*) DJ sets @ The Maritime Hotel Caffe Bar, NYC
Cheetah Girls, Everlife @ Arena @ Gwinnett Center, Duluth GA
Chemical Brothers (DJ set) @ Turnmills, London, UK
Cherry Poppin' Daddies @ Fantasy Springs Casino, Indio CA
Cheyne Christian @ LeClub, Long Branch, NJ
Cheyne Christian – Up On Me ( Dirty Dub )
available on Open Bar records
Chico O'Farrill's Afro Cuban Orch w Hilary Kole @ Birdland NYC
Chingy @ Navy Pier Grand ballroom, Chicago IL
Cities In Dust, Partytank! etc @ Absinthe, Hamilton, ONT, CAN
Chorduroy @ Deer Park Tavern, Newark DE
Chixdiggit @ Broken City, Calgary ALB, CAN
Crash @ Turku, Marina Palace, FN
Crud, Broadzilla, Not for Sal, Choking Susan, Aisle Five Hamtramck MI
Chris Botti, Kelli Sae @ Blue Note NYC
Chris Isaak @ Belly Up, Aspen, CO
Chris Knight @ Love & War In Texas, Grapevine,TX
Christina Aguilera,Jersey Boys,Rascal Flatts @ Dick Clark's ABC show, Times Sq, NYC
Chris Whitely @ Hugh's, Toronto, ONT, CAN
Chronicle @ The Bitter End, Portland OR
Chubby Carrier & The Bayou Swamp Band @ Casa Loma Ballroom, St. Louis MO
Cigar Store Indians @ Langford Sound & Stage, Roswell GA
City Sleeps,Fight Paris,Novakayne,Empire 44 @ Masquerade, Atlanta GA
Clap Your Hands And Say Yeah @ Hammerstein Ballroom NYC
Cleveland Pops Orchestra @ Severance Hall, Cleveland OH
Clumsy Lovers @ Schweitzer Mountain Resort, Sandpoint ID
Codetalkers @ Bamboo Room, Lake Worth, FL
Colin Amey, Sleeping Giant @ Cowboys Ranch, London, ONT

Clutch, The Sword, William Elliot Whitmore @ Rams Head, Baltimore, MD
William Elliott Whitmore – Midnight
Collective Soul,Marty Casey & the Lovehammers, Two White Crew etc @ Sheraton, Chicago IL
Marty Casey & The Lovehammers – Trees
Colleen Rae & Cornerstone @ Casino Edmonton, Edmonton , ALB, CAN
Commodores @ Resorts Casino Atlantic City, NJ
Common Sense, Lady Dottie & The Diamonds, Flock of '80s, Cover Me Badd @ Sheraton , San Diego CA
Conjuncto Pena Blanca & Banda Tierra Sagrada @ Fiesta Rancho , Las Vegas NV
Cooder Graw @ The Horseman's Club, Fort Worth TX
Connells @ Hilton Garden Inn, Beach, VA
Cornell Gunther's Coasters, Ray Powers @ Rainbow Room, NYC
Counterfeit Quo ( Staus Quo tribute) @ Blanchfields, Rochford UK
Country Joe McDonald, Jill Sobule, Dr.Loco w/ Los Bros Latin Fusion Band etc @ Zeum, SF CA
Cowboy Mouth @ Peabody Hotel, Memphis TN
Cracker Van Beethoven @ John Ascuaga's Nugget, Sparks NV
Cris Plata & Extra Hot @ Monona Terrace, Madison Wi
Crop Circle @ North Mymms Men's Club, Welham Green UK
Crystal Method ( DJ Set) @ Ruby Skye, San Francisco CA
Culprits, The Rainbow @ Victoria St. Carnival, Mackay, Queensland,AUS
Curtis Peoples, Tony Lucca @ The Mint, LA CA
CX-1, Larry Keel etc @ Grey Eagle, Asheville NC
D
Dada Global, Wandler DJ @ Rote Fabrik, Zurich , SZ
Dahli Pardon @ Brickhouse, Houma LA
Dale Watson @ Hideawy Bar BQ, Raleigh NC
Damaged Justice,Powerslave,Sacred Dawn,Skank etc @ Penny Road, Barrington IL
Damn Personals, Crash And Burn @ Middle East, Cambridge MA
Dan Band @ House of Blues, Las Vegas NV
Danny Masterson's Jazz Band @ Privilege, Hollywood, CA
Danny Sanchez and the Kings of Pleasure @ Patrick's II, San Diego CA
Dansettes, Electric 6 @ Maxwell's, Hoboken NJ
Dario Rosa, deadbubbles,Moses Montalvo,Lion Sized @ Hi-Dive, Denver Co

Dark Meat,Brown Frown,Music Hates You,Rorshak, Old White Women @ Secret Squirrel, Athens GA
Music Hates You – Send More Paramedics
Dar Williams, Kris Delmhorst @ Calvin Theater, Northhampton MA
Dark Star Orchestra @ Fox Theater, Boulder CO
Darude @ Element, Seattle WA
Dave "whammy" Walmsey @ Read & Simonstone Social Club, Read, UK
Datsuns, Shihad @ Riwaka Hotel, Riwaka NZ
Datsuns – Maximum Heartbreak
David Beebe & El Orbits @ Continental, Houston TX
David Dyson @ Hyatt Crystal City , Crystal City VA
Deacon @ Berky's, Tucson, AZ

Dead Combo, A Place To Bury Strangers, Real Kids etc @ Club Midway NYC
Dead Combo – You Don't Look So Good
Debbie Davies, Red Molly @ Towne Crier Cafe, Pawling NY
Debbie Does Dallas @ Ms. Rose's Dinner Theater, Perrysburg OH
Dee Dee Bridgewater @ Harris Theatre, Chicago IL
Deep South, Steve Holly, the Devonshires @ Wildhorse Saloon, Nashville, TN
Deftones, Deadsy @ Avalon, Boston, MA
Delayed Reaction, Opossum Trot @ Carl D Perkins Center, Morehead, Kentucky
Del McCoury Band @ Strand-Capitol Theatre, York PA


Dengue Fever @ Rickshaw Stop SF CA
Dengue Fever – Sleepwalking Through The Mekong


from "Digi EP"
by Dengue Fever
M80
Department of Metal, one shot kills @ The Underground, Hickory, NC
Derek Trucks Band / Susan Tedeschi @ Fox Theatre Atl GA
Derrick May, Kevin Saunderson, Carl Craig, Theo Parrish @ Orchestra Hall, Detroit, MI
Desperado (Eagles Tribute) @ Coachhouse, San Juan Capistrano, CA

Devil Wears Prada, Once Nothing, Zombies Ate My Neighbors, Distant Hero @ Attic, Kettering, OH
Dhoom Musical Group, Gitaniali @ Mantra, Palo Alto CA
Dialogues, Body Electric @ Club Sandwhich, Harrisonburg VA
Diane Schuur w/Dave Samuels @ Iridium, NYC
Didley Squat, Th' Losin' Streaks, Snobs @ Old Ironsides, Sacramento CA
D.I.L.F @ Club 86, Geneva NY
Diplomats of Solid Sound @ Riverside Casino & Golf Resort,Riverside, Iowa
Dipstick @ Sherlock's West Gray, Houston TX
Dirtbombs @ Magic Stick Detroit, MI
Disco Biscuits , Keller Williams @ Tweeter Center at the Waterfront, Camden, NJ
Dinosaur Jr. @ Rebel, NYC
Dirty Dozen Brass Band, Seismic @ Orpheum Theater, Flagstaff, AZ
Djibouti @ Desmonds, NYC
DJ Scratch (from the Roots) @ Clift Hotel, SF CA
DJ T, Bjorn Wilke, etc @ Burdekin Hotel, Sydney, AUS
DJ Quik @ Vault 350, Long Beach, CA
Docek Nove Godine, Nenad Vetma @ Croatia Club, Mississauga, ONT
Dog Men Poets, Groove Movement, Starchild @ Rebar, San Antonio TX
Doobie Brothers @ Wente Vineyards, Livermore, CA
Donavon Frankenreiter, White Buffalo @ House of Blues, San Diego CA
Donegal X-Press @ Mick O
Donna The Buffalo @ The Coliseum , St. Petersburg, FL
Dorothy Cole's Tina Turner tribute @ Yesterday's Event Center Athens AL
Doves, DJ Yoda, Justin Robertson @ Wherehouse project, Manchester UK
Down The Drain @ Tudor Lounge, Buffalo NY
Dramarama @ Surf Club, Ortley Beach, NJ
The Drams @ Dan's Silver Leaf, Denton,TX
Dreadnaut, Damascus, Still Village @ The Zoo, Winnipeg, Manitoba, CAN
Dreams End,Elliot Avenue,And The Serpent Answered @ Bulldog Cafe, Louisville KT
dreamsicles @ Cool Dog House Concert, Smyrna DEL
Dreamtime @ National Constitution Center, Philly, PA

Dred I Dread, Opin @ Hat Trick Lounge, St. Paul MN
Dred I Dread – We Ruff We Ruff
Drew Davis Band @ Ballydoyle, Downer's Grove IL
Dr. Israel , DJ Sep @ Elbo Room, SF CA
Dr. John @ First Congreg. Church , Montclair,NJ
Dr.John – Basin St Blues
Dr. Mambo's Combo @ Bunker's, Minneapolis, MN
Dr. Michael White's Original Liberty Jazz Band @ Village Vanguard, NYC
Drive-By Truckers @ Variety Playhouse, Atlanta GA
Drive Like July, Shot Heard Round The World @ Pete's Candy Store, Brooklyn NY
Drivin' N' Cryin' @ Hyatt Regency Hotel, Atlanta GA
Drowning Pool @ Scout Bar, Houston, Texas
Drowning Pool – Killing Me
Dubconscious @ Smith's Olde Bar , Atlanta, GA
Dudley Manlove Quartet @ The Triple Door, Seattle WA
Dugholes,Fu-Fops, 4sale but not 4sale, 40til5, Niteowl @ Blueberry Hill, St.Louis Mo
Dung Beatles @ Whisky, Wilmington NC
Dusko Kulis @ Croatian Cultural Center, Chicago IL
Dwarves, Muscle Puzzle @ Ravari Room, Columbus OH
Dykeenies – New Ideas
Fratellis – Creepin Up The Back Stairs
Dynamo Hum @ Elephant Run, Tulsa OK
E
Eason Chan, Grasshopper,Atomic Kitten, Soler & Twins,etc @ Nokia NYE @ Harbour City Ocean Terminal, Hong Kong CHI
East 2 West, Marc Bishop @ Santa Catalina Ballroom, Westward Look Resort, Tucson AZ
Eclipse @ Orange Club, West Kensington UK
Econoline Crush @ Roxy, Saskatoon, SK, CAN
Econoline Crush – Make It Right
Edessa, Ziyia @ Ashkenaz, Berkeley CA
Edison Factor @ Shepards Bush Empire, London UK
Edge Band @ Lucky 7 Sport Bar , Embrun, ONT CAN
Edwin McCain Band @ House Of Blues , Cleveland, OH
Einsteinsgeist @ Benaroya Hall, Seattle, WA
Ekoostik Hookah @ Lifestyle Communities Pavilion, Columbus, OH
Ekoostik Hookah – New Years Day
El Cuarto Verde @ Michael's on Main, Soquel CA
Element @ Bojangles, Dayton, OH
Eli Jones & the Bare Bones @ Cooper's, Chicago, IL
Elvin Priestley, Strictly Groove @ Thistle Hotel, Bristol, UK
Elvis / Buddy Holly Tribute Show @ Brighton Fishos , Sydney AUS
Emotron (Dead Milkmen Tribute),Labia Minor @ Milestone, Charlotte NC
Emmylou Harris, Suzy Boguss, Cowboy Jack Clement,Rhonda Vincent and the Rage etc @ Prarie Home New Year, Ryman Auditorium, Nashville TN
Emmylou Harris – Where Will I Be
Entropy @ The Five Spot, Atlanta, GA
Epochs, Zigmat, Taylor McFerrin @ Asterisk* Art Space, NYC
Eric McFadden Trio @ Launchpad, Albuquerque, NM
Erykah Badu, Bilal @ House Of Blues , Hollywood CA
ESE, Hells Engine, Vatos Locos, the Ghost Storys ,El Desmadre @ Walter's on Washington, Houston, TX
Eternal, Young Ace, Poetic Thug, Dos-Equis,Cynikal 3000 etc @ 2020, Dallas TX
Eternal Tears of Sorrow, Amoprphis, Poisonblack etc @ Club Teatria, Oulu, FN
Euge Groove @ Hyatt, Huntington Beach CA
EVP ( Alex Diplock ) @ Space, Auckland NZ
Exilados',London School of Samba Bateria @ Guanabara, London UK
Expose'@ Emerald Queen Casino, Tacoma WA
Extraordinaires @ Pigalle Club , London UK
F
Fabulous Gunslingers, Buc Wyld, Shawn Lacy @ Pepsi Roadhouse,Burgettstown, PA
Fabulous Gunslingers – She Rode The Bull
Fabulous Janes @ Cubby Bear, Lincolnshire IL
Fallen @ Gibson Amphiteater, Universal City CA
Falsies, Lance Brenner @ Atomic, Charlottesville VA
Family Stone Experience @ Red Rock Casino, Las Vegas NV
Fantasia Barrino & Jamie Foxx @ Oracle arena, Oakland CA
Fathead, Raoul & The Big Time Band @ Silver Dollar Room, Toronto, ONT CA
Federation, Flava Flav, san Quinn, etc @ Bill Graham Civic, SF CA
Ferry Corsten, Sasha & Digweed, etc @ Giant Maximus, Downtown LA
Fiesta! @ Salute! Restaurant, NYC NY
Fiftymen, Hilotrons, Ukrainia @ Black Sheep, Wakefield, ONT CAN
Fintroll @ Z7, Pratteln, Switzerland
Fishbone – Party @ Ground Zero
Fishbone, Eclectic Collective @ Asbury Lanes, Asbury Park, NJ
Fisherman's Burlesque,Les San Cullotes @ Steinhardt Bldg, NYC, NY
Fists of Phoenix, Meridian, Minus The Star, Within Nothing, etc @ Enchanted Forest, Cape Girardeau MO
Fixx, Conjunto Progreso @ Bayfront Park, Miami FL
The Fixx – Are We Ourselves
Flaco Diaz, Brian Bromberg, Jeff Lorber etc @ Starr Pass Resort, Tucson AZ
Flaming Lips, Gnarls Barkley, Cat Power @ Galen Center, USC, LA CA
Flamingo Cantina @ Shanytown Underground, Austin TX
Flat Foot Sam & the Educated Fools @ Wyndham Gardens, Harrisburg PA

Flipside, Mutant @ Jolly Troll, Holton, KS
Fondue Monks @ Dan Electro's, Houston, TX
Foreigner,Colin James,Justin Hines @ Queen Victoria Park, Niagra Falls ONT CAN
Foreign Islands @ White Room, Brooklyn, NY
Fractured Fairytale,Schmega,Mud Jug,Under the Sun @ Rock Shop, Fayetteville, AR
Frajile @ Twistez , Sedalia, MO
Frames @ Vicar St, Dublin IRE
Francois Constantin @ Baiser Sale, Paris, FRA
Frankie Moreno @ Texas Station, Las Vegas NV
Frantic City, Dodger @ Casbah, Hamilton ONT CAN
Freddy Cole @ JFK Center For Performing Arts, Washington DC
Freshlyground, James Stewart @ Kirstenbosch, Capetown ZA
Friends Like These,So It Goes,TV Sound etc @ Nomad World Pub, Minneapolis, MN
Front Page , Elements @ Gold Coast Casino, Las Vegas NV
FU-ARKIST-RA, Medicine Woman Roots Ensemble @ Amayo's Afrospot Temple Brooklyn, NY
Full Contact Kitty, Ameranouche! etc NYBB @ Free Coop & Library, Belfast ME
Fulton County Line @ California Clipper, Chicago Il
F*cking Champs @ 12 Galaxies, SF CA
Funkle Ester @ The Biltmore, ATL GA
Fuzigish, Subrosa, Summit, White Rabbit @ Tempo's Sunset Beach, Johaneesburg ZA
G
Galactic,Hot 8 Brass,Soul Rebels,Papa Mali @ Tipitina's Uptown, New Orleans, LA
Gang Green, Damage Case @ Red Blood Club, Dallas TX
Garaj Mahal @ Fairview Pub , Vancouver BC
Gary Lewis & The Playboys @ Plantation House, Plant City, FL
Gaylords @ Darkroom, Chicago IL
G.B. Leighton @ O'Gara's Garage , St. Paul MN
George Clinton's Parliament Funkadelic @ DAR Constitution Hall, Wash DC

Genitorturers @ The Fenix, Seattle WA
Geno Washington & The Ram Jam Band @ 100 Club, London UK
Geno Delafose & French Rockin' Boogie @ Vermillionville, Lafayette, LA
Gettin Deep, Spit Shine, Ramshackle @ Backstage Lounge, Gainesville FL
Ghost Riders (ex-Outlaws, Pure Prarie League) @ Leitersburg Theater, Hagerstown MD
Gibson Bros @ First Night, Saranac Lake Ny
Ginetta's Vendetta @ Susan's Restaurant,Peekskill, NY
Girl Talk, w Lando Mondo versus Waterbabies @ Empty Bottle, Chicago IL
Gladys Knight @ Tropicana, Atlantic City, NJ
Glorious Blue @ RedBird Club, Bush Stadium, St. Louis Mo
Goldie, Darren Styles, Slammin Vinyl NYE etc @ NEC Arena , Birmingham UK
Gomers @ Brocach, Madison Wi
Good Company, Nakamura Lock, Dave and Melanie Holm @ Cafe Bourbon St, Columbus OH
Goo Goo Dolls @ House of Blues Anaheim CA
Gourds @ Austin Music Hall, Austin TX
Gov't Mule,Toots Hibbert @ Beacon Theatre, NYC
Grand Master Flash ( DJ Set) @ Tangerine, Las Vegas NV
Grass Pack @ Schlafly Bottleworks, St. Louis, MO
Great American Taxi @ Gold Hill Inn, Boulder Co
Greensky Bluegrass, Steppin' In It, Seth Bernard & Daisy May @ State Theatre, Kalamazoo MI
Gregg Allman & Friends @ North Fork Theatre, Westbury NY
Grey Cooper Love Party @ Funkcasino, Forum Cafe, Sheffield UK
Grinning Lizards @ Woodstock Station , Woodstock NH
Grinspoon, Butterfingers, Butterfly Effect @ Dreamworld, Gold Coast, Queensland, AUS
Groovie Ghoulies @ G Street Pub, Davis, CA
Greyboy Allstars, Soulive, Toussaint @ 9:30 Club, Wash DC
Groove Junkies @ Gallery, Silver Spring MD
Gross Misuse of Noise, Wind and Brackets, Royal Engineers, Mochesmo, Shrewms, etc @ Alley Bar, Brisbane AUS
Guardian Troll, Phoenix Ash @ Club Soda Kalamazoo, Michigan
Guilty Pleasures, Andra Moran @ Cannery Ballroom, Nashville TN
Gumbohead @ Broadway Oyster bar, St.Louis Mo
Gwen Stefani,Nas,Ciara,AFI,Pussycat Dolls etc @ MTV Studios, Times Square, NYC
Gypsy Pompe @ Cafe Coco, Nashville TN
Gypsy Tea Room @ Ghostland Observatory, Dallas TX
H
Halestorm @ Tourist Inn, York, PA
Halflink, Lime Green @ Great Slates, Cambridge , MD


Hank Williams, Jr.@ Eastern Kentucky Expo Center, Pikeville, KY
Hank Williams Jr. – A Country Boy Can Survive
H